The menu we were having difficulty on is almost complete! This is the item menu.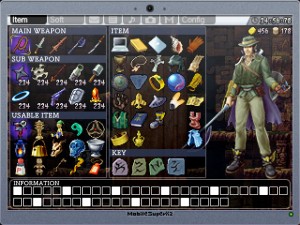 This is the menu to select main weapons, sub-weapons and armor items. By placing the cursor on the icon, a simple description appears below it.
On the right side is a picture of main character, but this picture will change based on the item obtained or weapon equipped. By taking all the items, it becomes almost like some kind of cosplayer, but based on the order of how the game progression changes, it could be possible to make strange costume arrangements.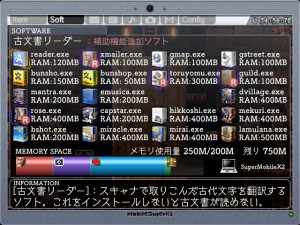 This is the software menu. It'll change from ROM menu of the original version.
Based on comments and opinions we made it to a software that decided to be loaded within the memory space, instead of limiting the number of times software is installed. The images lined up are the number of all software appearing this time.
The config menu has some problems with specification on the Wii side so we haven't made a final decision yet, but we're making improvements from the comment we receive here on the blog.
As requested, we have also changed to support the combined operation of the Wii remote control and Nunchuk. Support for holding the Wii remote control sideways, Classic Controller, and Gamecube controller has been added.