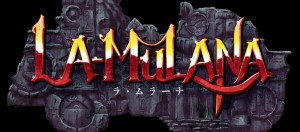 After announcing the forthcoming release of LA-MULANA for WiiWare Edition in North America, nothing changed on this, the official site. But now it's been refreshed!
So far the site has few new pages. And we will upload images one-by-one.
Don't think of this site as simple a general site for information to be released little-by-little. Think of it as a way to exchange ideas between the developers and fans. This official site is here with a purpose.
Producing something on a console like Wii is new for us; we've never tried it. Although the plans and specifications are almost complete, we don't know all the details yet. You will surely find information on this site.
To be honest, we want to complete the process learning the entire way. As we plan, though, we can continue developing LA-MULANA because it's a remake.
By the way, I was satisfied with inclusion of the WiiWare logo on the illustration of pre-official site. There are many reasons, when I think back on LA-MULANA is so appropriate for it.
Needless to say, we have sealed off LA-MULANA from starting NIGORO. Its the driving force that was responsible for establishing NIGORO, but its not because of the NIGORO product. Whats happening with remake and release
this sealed game, its because of the support of many people.
Funshi Kakutei, he made a walkthrough site when the trial version was released and captured it thoroughly. His site is still said the best walkthrough site.
Masakado, you came forward to translate PC edition into English. This game spread to foreign countries, thanks to you.
Lamulana191,you published the super technique movie on Youtube. As a result, the movie traveled to foreign countries outside of Japan.
DeceasedCrab, you also uploaded walkthrough movies run to 89 on Youtube.
These movies spread the fear of Hell's Sanctuary.
In addition, jman2050 and Madamluna who draws many illustrations of LA-MULANA published walkthrough movies on Youtube, too.
As to carver98, he plays guitar. We had never dreamed that someone would play our music.
White Knell, you made great Wiki database which is the best overseas walkthrough site.
In Japan, ryon3, you showed funny walkthrough movies on NICO NICO DOUGA. We watch it even now.
we were surprised by Boumankan. You were able to do the shortest completion time day by day.
TimW from INDIEGAMES, you're quick to pay attention to LA-MULANA and NIGORO games. Also still pump up them.
La-Momolana, you are writing a walkthrough challenging blog with animations.
We were so impressed by finding the blog after long time.
And then, NIGORER in NIGORO generalization thread of omoshiroi freesoftware hinanjyo continue to support From LA-MULANA to NIGORO In Japan.
We can't specific all of names, but we know so many people have supported LA-MULANA and us.
This game can jump on the new stage because of you.
Thank you.