Even though the graphics aren't entirely complete, the creation of the small enemies is done for now. Next, we're moving on to create the mid-boss, room guardians.
Speaking of mid-bosses, this is one of the highlights showing the game's milestone. Even though it's not a massive boss, we still want somewhat of an impact. That's how several room guardians have grown larger in size when compared to the original version. Also, some of the older designs have changed along the way.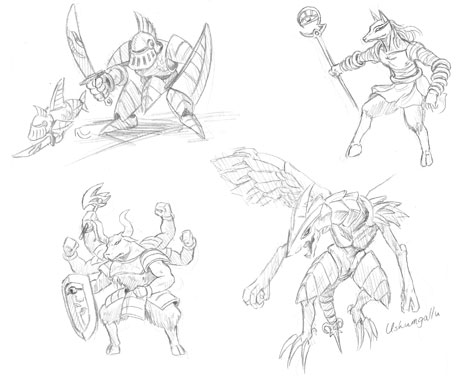 The room guardian's size is big so, unlike the small enemies, the shape must be firmly decided before creation. Otherwise it'd never be high-quality. We can't just go for an attractive design, but must consider things like movement of segmented characters and economizing parts.
Within the movies we've shown up until now, there are room guardians made by multi-joint, segmented construction called [ Algos ] and [ Buell ]. Actually, there are people who don't like this, but there's a good reason for it.
We can understand the opinions regarding the departure from the retro game feel of the original. If you think about games coming out in this era, simply doubling the size of smaller enemies would be quite ugly.
Furthermore, this time around the animation of smaller characters is much more details with more patterns and design than the original game. The fear is that if the room guardians movement is as rich as the smaller enemies, then the image data would look quite cumbersome and a bit overkill.
With that, the image milestones were made and the segmented construction was adopted to enhance the rich animation. This time, the aim of the new La-Mulana itself is the evolution of a 2D game, so we thought it was natural to put in the segmented characters.