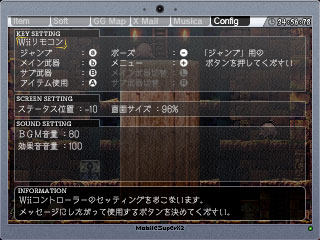 We're currently in the midst of creating the menu.
We, NIGORO, are a relatively start-up and this will be our first time entering the console market.
Without strength there won't be any knowledge or connection of NIGORO and La-Mulana.
And we can't do campaigns or large-scale ads. We have to do everything on our own.
That's why we try to take the way which cannot make it by the existing process of development and advertising such as making fans privy to information on the official site.
We're showing it to you as it's created to let everyone see and offer their opinions, it's useful for the game development.
It's almost as if the individuals who visit the official site and leave comments are members of NIGORO.
With that said, I, the game director will tell you a bit about the job.
I actually haven't been playing any games these past few years.
I do have a Wii, but strictly for development purposes. I'll download and play WiiWare games for a few minutes, but primarily for reference. That's why any configuration necessary for Wii games don't come to mind.
Right now, the topics below have come up that include things that are thought to be necessary and what became possibly during development.
[ Key Config ]
We're planning of course the Wii controller as well as the Classic Controller and GC controller and also planning to be able to set the keys while using the controllers.
The gray items are because the Wii controller only has a few buttons. If the Classic Controller is used, you can set the buttons to instantly switch menus and weapons.
[ Status Placement ]
We added this because when we made the game screen size, depending on the monitor, the top or bottom would not fit and the HP and money displays were cut off. So, the placement is decided by matching the top and bottom to the monitor.
[ Screen Size ]
This is similar to above, where a screen that would not fit within the monitor is reduced in display and adjusted. For the development steps, the length, width, top, and bottom placement can be set in detail, but as a visual lead, they don't like any strangeness in the display ratio so we just enlarge or reduce based off of the center of the monitor.
I believe any other detailed setting can be adjusted with the TV monitor or Wii.
[ BGM/Sound Effect Volume ]
The ability to set the volume balance of the BGM and sound effect. Even within the development staff there were differences in how each person liked the song and sound effect balance, so it is settable.
How is this? Are there any config items you want or need other than those?
Please tell us!