I apologize that we haven't had any updates for a long while. But we finally sorted out everything for the release of La-Mulana. We are now making a guide book for it. This is what the guide book looks like: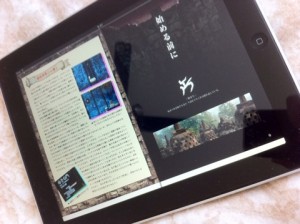 This is a two-volume guide book and we plan to release it online. The first volume is a manual with some details of early stages and will be distributed before the upcoming release of La-Mulana.
The second volume is a strategy guide which is inclusive of the final stage and will be distributed with a fee via Internet after the release of La-Mulana. Although this is a strategy guide, take note that it only gives you hints and does not show how exactly you can solve puzzles.
We would like you to experience more than just a world of La-Mulana through these extra items.
We will also distribute the pay version of the first volume (the release date will be slightly delayed). Proceeds from this version will be donated to Northeast Japan Relief.
In Japan, some companies, through voluntary self-restraint, have postponed their game release date.
We sincerely hope that we could contribute to Japan's reconstruction through La-Mulana (even if it's just a tiny bit of help), given the circumstance that its release date coincidentally overlaps with Japan's disasters.