Download contents add not only Hell's Sanctuary field but also new play-mode, that is time attack mode.
You can continuously fight against all Room Guarders or all Guardians and do time trials.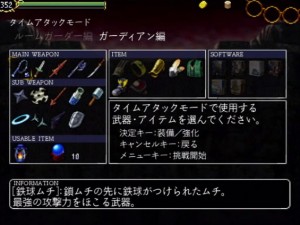 After selecting Room Guarders version or Guardians version, you choose equipments for time attack like this.
You can instantly kill weak bosses with full equipments, and you dare to challenge with minimum equipments.
Room Guarders version is based on the work which Japanese user created when original editing tool released.
When you beat the last enemy, this pops up on the screen.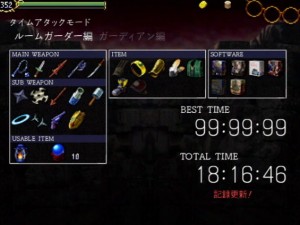 Unfortunately, there is no network ranking system.
This is our first time to enter into Wii market, so I'm afraid we have no available capacity for that.
But, now that the internet is widespread, you can capture your results on your screen and take pride in it on your blog or something.
It shows your setup and clear time, you can proof your time with what you equip.