We gathered all your ideas of achievements, then decided the achievements as we thought "We won't just follow you."
Personally, I don't like the system of achievement, because I feel like that developers specify how to play the game.
However, we have to implement them, so we thought we should make achievements that La-Mulana can take advantage of itself.
About Steam version, it is just altered some system suitable for Steam client.
The other versions released from Playism, GOG, etc will be updated, too.
And also, La-mulana's save data files are compatible with any versions. So, you can load your save data with your configurations on Steam version.
Forgive me that lots of achievements need to play from the beginning, but I hope you enjoy La-Mulana a long time without being stuck to getting them.
So, let's cut to the chase. The achievements are classified into four kinds.
– Ones you can get when you play the game through(yellow frame)
– Ones are related to characters who appear in ending credits(blue frame)
– Very challenging ones that I dare you(red frame)
– The others are trivial things(white frame)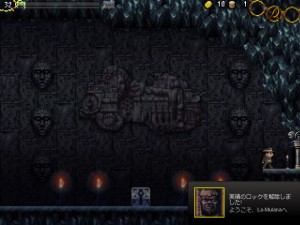 I show you some achievements as we have got your ideas.
– Seek a higher place.
– A one time challenge.
– Giant's Rage
– Xelpud's Pen Pal
– The Run To Ruin
– Curry Addict
I wish you could enjoy finding out the conditions to get all the achievements.