I contacted a player who has cleared the original Japanese version of La-Mulana in the shortest time (about two hours) and had him play test the game.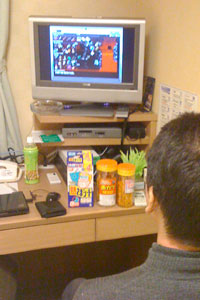 Surely, his knowledge of La-Mulana must be fairly comprehensive since he is able to clear the game in such a short time,.
This play test is on an incomplete pre-alpha version and there were no major bugs or misses, so we had the functional feel of the basic game checked.
He said, "It doesn't seem to have any problem for the action." Again,
citing his comment, "My feeling from playing it is this is an easy-to-play La-Mulana. This is it. It doesn't have the '8-bit parts'
such as needing an MSX cartridge to save so it's much friendlier.
I'mnot saying that it's a sell-out, but rather that this is still the real La-Mulana.
With this even people who may have been frustrated with the original version will be fine."
Those who liked the functional feel of the original version can rest assured. There are a few changes made to adjust to current game
circumstances, but the sense of exploration and adventure you get from playing the game is the same. I believe those who played the original version will easily adjust to it.
The bugs and requests found during this test play is currently being examined. I would like to have more people test play, but this is quite difficult to accomplish. Some day I would like to find a way to hold an event to have people from overseas test out the game before it launches.