A while back we conducted a survey on the music for La-Mulana. We'd like to announce the results.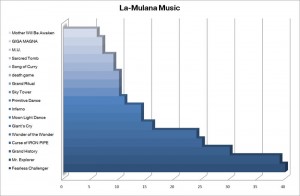 The most popular were the Surface, Guidance Gate, Giant Mausoleum and Sky Water Source.
I'm sure there are good and bad songs, but we understand that the songs in the early stages of the game make lasting impressions to the players. We have received pressure that these popular songs should be arranged in a way for the Wii as to not ruin the atmosphere of the original version. On the other hand, we'll do what we like for the not so popular songs.
There is a purpose for this survey.
The top three popular songs (Curse of IRON PIPE is impossible) will be hidden within the game of the original version's sounds. Of course it's still being created, but it could be possibly cut due to lack of a main point…