Adjustments and effect creation are almost complete. I can now introduce the new sub-weapons.
First, I'd like you to remember the basis of the sub-weapon in the original version of La-Mulana. Remember, La-Mulana is a game created so that it can be conquered and cleared with only a sub-weapon. So, please think of the new sub-weapon as an extra. It's not like you can't beat a guardian or solve a puzzle without it. Think of it as being a variation to the path of the ruins.
Well then, the first of the newly added weapon is one of the ninja weapon, Makibishi.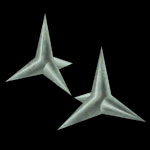 We made this simply to have something to attack with that was not in the original version. You throw it behind you.
The thrown makibishi rolls on the ground and remains on the ground.
This will give damage to enemies who step on it.
This is thought to be used against enemies chasing after you to step on or enemies with shields to step on.
The other one is the chakram.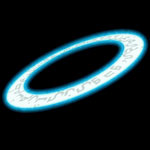 I think this was a weapon from India. There was a discussion to have a boomerang type sub-weapon, but a boomerang would not fit well with ruins, so we decided on a chakram. Even if it's thrown, it returns to back to the Professor. It still follows even if you jump. If you catch this returning chakram, the number of bullets won't decrease. On the other hand, if you get too in to it and throw the chakram while jumping around, it will fly outside of the screen. You would use it to attack enemies with shields from behind. Regardless, this is an enjoyable weapon.
Speaking of which, there was something that was changed within the sub-weapons in the original game. The distance of the muzzle is
shorter. But it explodes like fireworks. The existence of the throwing knife is gone. There's no way something like that would roll on the ground while flipping, so it was changed to a wheel-shuriken.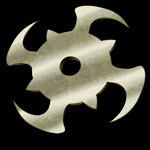 Now we can rest assure and roll on the ground. And it climbed up the slope.
Honestly, we thought maybe there wouldn't be any use for new weapons in the already complete world of the original version. But a player betrays the developers' intentions. There were several in the original version, but we look forward to seeing people who conquer by using these new weapons in unimaginable ways to appear.