Naramura is going to make a speech at GDC 2013 as we announced on NIGORO's official blog.
The title is "Commun-indies: Making the Most of Your Indie Community". Scheduled at 11:30AM on 28 March, the venue is Room 132 North Hall.
http://schedule2013.gdconf.com/session-id/824292
Although Naramura was invited to make a speech in Taiwan, we have neither fabulous techniques nor effective developing methods. Then, every time we are embarrassing what we should talk.
Well, what is our original developing methods which we only have and talk to the world? Above all things, the answer is stimulating communications with users who let us pass Greenlight. For instance, screenshots which we showed you on this site when those were still under development, the questionnaire about music and discussions whether we should take off clothes of the sculpture of goddesses or not.
So, Naramura is going to talk about users who brought up La-Mulana as parents. That is going to be a compilation of gifts from users throughout the activities we did.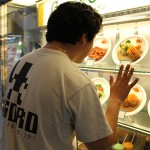 This is definitely a turning point of NIGORO. Let's join our talk if you come to GDC. And then, if you love La-Mulana, how about picking up the guy who are wearing NIGORO tee as he goes all the way to the US and shows up on the site?