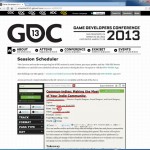 Good mornig.
Naramura here, I have been in San Francisco from 23, and today my turn finally comes.
I am going up the stage at 11:30.
The title is "Commun-indies: Making the Most of Your Indie Community".
About the details, please refer to GDC official site or the previous post on this blog.
Well, who will write an article of my speech at first? I will look for it when I come back to my hotel.
Now, I'm going.