You can see amusing illustrations in places in the instruction manual.
These are illustrations that Naramura redrew momo-san's ones.
She is playing the original version's LA-MULANA and keep a playing journal on her blog.
We got her permission for the official guidebook Vol.2 which is also a strategy book.
But, as we mentioned last time, it's impossible to translate it because of too much texts.
So, we put some illustrations on the instruction manual because overseas people cannot see them.
We wish we could publish our official guidebooks in English…
While we are on the subject, we show you some other illustrations that are not able to put in the manual.
She has been in a quite long adventure.
Hope you support her as a senior archaeologist.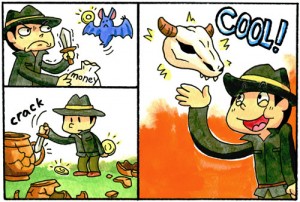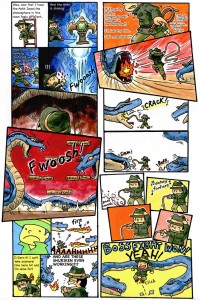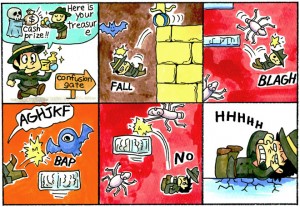 You can read her Adventure diary at here!!