I believe there are a lot of people who wonder about this, so let's announce
what's decided up to now.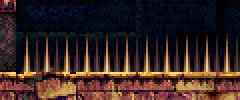 This is something we just changed, but we fixed the image of the needle in the ruins. That's because the specification of the needle has greatly changed:
– As long as you don't fall from the top to upward needle, you won't receive damage.
– If you walk along the side, you won't receive damage.
– If you fall from the top and at one point stand in the needle, or as long
as you don't jump on top of the needle you will not receive damage.
– In exchange, one damage from the needle will take about 1/5 of your
health.
This is in response to how many players felt that "there is no point in the
needle when the health increase in the latter half." With this, you can
easily die any time in the latter half of the game.
The opportunities of players dying have increased, for example, being
crushed from becoming pinned to a moving wall. This is not to increase the
level of difficulty, but is a specification that was changed following other
specification changes.
In the original version players could only save at the Elder's tent above
ground, but this time we're planning to make it so players can continue from
the last holy grail monument that was touched. Basically, the areas where
players can easily die have increased, but it's also easier to start over.
Another popular user opinion was, "it's a hassle to save up money in the
beginning & in the latter half there's too much money left over". This time,
the game rom that was in the original version is gone so those hidden places
have become places with nothing. We're planning to place hidden treasures in
those places. That means that there will be places where 50G to 100G more
than in the original version would be hidden.
There were also specification changes to the money in the pots so that they
have had their contents removed once will be empty. Even if you save and
load, it will not return. In exchange, the pots will also sometimes have
about 3-5G. I believe that with the increase of locations with hidden money
it will be a little easier to collect money in the beginning, but this will
not resolve the issue of money leftover in the latter half.
So for that, this time most of the weapon's bullets will not be in the pots.
weights will also rarely appear. Please buy them at the store. And please
take advantage of the people in the pleasant store.
These things will be balanced for the first time once the game is complete
and constantly repeating test plays so please believe in NIGORO and
patiently wait.