So far we didn't really reveal any information about PC version.
But, it's time to do that.
Actually, the game itself is rarely different from WiiWare version.
We think we don't have to keep retouching the game since we completed it for WiiWare version.
Especially for overseas people, this is the first remade La-Mulana.
So, we'd like to let them feel the same excitement that Japanese users felt.
Almost all the modifications of the PC version are about systems that have to be adjusted for PCs.
We modified configuration settings and some points that we had to compromise for WiiWare because of the limit of buttons on Wii controller.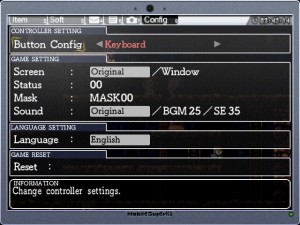 You can use a Keyboard, a USB controller or an XBox360 controller.
You can also adjust full-screen display mode depending on your PC monitor.
Lastly, language setting. Japanese and English are contained when it's released.