Although we, NIGORO, are the ones creating La-Mulana, the ones selling and promoting it outside of Japan is NICALIS.
The one of the bosses at Nicalis is Tyrone. He's an American of Latin heritage.
It seems that he was called to Madrid, Spain to give a lecture at an even called Ideame.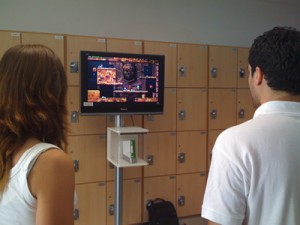 Apparently, he had college students there try out the current version La-Mulana.
Keep in mind that while the US knew about the Commodore and Amiga, Spain is largely rooted to MSX.
There seemed to have been several students who played the original version of La-Mulana. Of those, two had cleared the entire game.
If they're college students now, that means they had played the original version in their late teens.
To think that people so young not only thought the original game was fun, but that there were also people who had cleared the game.
There was a high percentage of people who knew of La-Mulana in the lecture at the university Tyrone was called to visit.
From what those people played, "It's much easier to play than the original game," and that "the graphics look cool!" Although we were worried that the remake would be less fun, we feel at ease to know there are people that continue to wait to play in anticipation.
However, are there a lot of people who want to play La-Mulana in Europe let alone Spain.