I'm able to rest assured now that there is a movie we have shown of La-Mulana working on the Wii.
To explain our current status, we've started prioritizing the basic parts of all actions of the main character as well as the enemies and traps, too.
The other day, we more or less finished implementation of all the main character's actions, so duplex will now begin development of the menu and stores.
Because we can't create a screen to show everyone by making only base parts, Samieru and I proceeded with the initial number of field maps and enemy characters. The work for these two will not change. We will continue to tirelessly create the maps and enemies.
And, since aside from being the graphic lead, I plan/design, confirm specs, compose music and do public relations, there is a problem with the issue of time. So, the designing of the graphic for the enemy characters–which I was hoping to have all done by middle of this month–will not be done in time.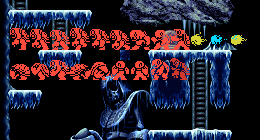 That's why we're proceeding with the enemy AI by using the original graphics as placeholder.The completed graphics (though not touched up) of the enemy characters are enemies of the Guidance Gate. So, up to the Sky Water Source, we're testing with temporary single color graphics and anything after that is with the original graphics.
Once the map work settles down, we will need to draw in the enemy character art.
That is where I would like to ask for your opinion. If we show everyone the new screens, they are similar to the previous gameplay movie with the incomplete enemy graphics and maps.
But if doing this only brings up more questions such as, "Are these graphics complete?" or "Isn't the screen kind of dark?", then we think we'll wait until the art is done.
Major game companies adjust the development timing and, at the same time, make the same screens public on the Internet and magazines to avoid biased info from being released. We are a small company that cannot even advertise in magazines. Where we might not be able to advertise, we aren't bound by the need to have certain info out by a specified date.
If that's the case, we feel we can show everyone creations in the works and get everyone's feedback, but what do you think?
Please tell us your opinions.