Thank you very much for your patience. We have all prepared for releasing Steam version. The release date was confirmed on 15 April!
We feel hesitant about visiting GDC without a present, so starting the pre-order from today.
You can buy La-Mulana at a discount of 10 percent if you pre-order it. (Honestly, you don't have to hurry.lol)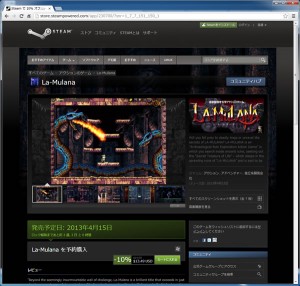 The price is $14.99, same as other distributors. Buy-Here!!
You can use the Steam community since La-Mulana's page has been made on it.
Steam users are already excited among Steam. We'd like to bring them to life earlier than the official site. I think we can give some announcements on it, too.
We warm up both the community and the official site with all our might. Hope you enjoy them until the release date.