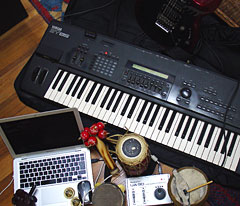 We plan on replacing the original music with new music, same as we're doing with the graphics.
I'd rather remake it close to SSCC version with the quality of sound as arranged MIDI from the original game.
Shown in the picture above are percussion instruments which were purchased on an overseas trip. This was in order to make sounds of LA-MULANA for WiiWare.
I record these sounds and then use them as tones for the music. I have to prepare them myself, the same way I did for the PC version.
I sample these instruments, like the guitar with the highest-quality sound source possible.
The main tool is Yamaha's famous SY-85. At the time, it was the highest quality machine that could make PCM sound source and FM, too. It also can make life-like strings and mechanical sounds. This is how I composed music when I was a student.
I'm preparing audio via the Roland SC-88vl and Apple's GarageBand, used for Nigoro games.
Though I have to make the artwork, maps, position enemies and update information here, I'll revise the music as the schedule permits.
if a song isn't completed, we'll release it on the website anyway.
We'll announce the completed music.